Frequent, timely and fast deliveries. These are the service requirements of Dental Trey, who was recently acquired by the US multinational Henry Schein, and therefore had to harmonize the warehouse software, adapting it to the new management systems shared with the parent company. A task perfectly performed by LCS.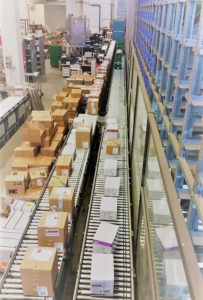 Dental Trey operates on the Italian market of dental supplies, distributing over 33,000 dental products and selecting the best of Italian and international production. The four company divisions, consumption, information technology, equipment and dental implantology, cover all aspects of the dental world. The understanding of the needs of a constantly evolving sector has led to the creation of new services to offer the market lines of dental products of great success.
Dental Trey operates with its headquarters in Fiumana-Predappio (FC) with 10 branches spread throughout the country, with the aim of covering the Italian territory. The company manages over 33,000 products with a standard order fulfillment in 24 hours thanks to the automatic warehouse.
The change in the company management platform had a natural impact on the functioning of the warehouse and on the high standard of service, which is fundamental in a sector such as dentistry where precision and timeliness are essential factors.
Both the parent company Henry Schein and Dental Trey have without hesitation chosen LCS for the software renewal, thanks to its proven experience in SW adaptation. LCS can offer not only its experience but also relevant technological skills of software development. Dental Trey warehouse is automatic and is equipped with six stacker cranes, four put-to-light picking bays and a shipping line.
The entire system had to be adapted to the new ERP interfaces that harmonize the management of the entire international group.
The refurbishment operation carried out by LCS involved all levels of automation, namely seven PLCs, the Warehouse Control System (WCS) and an interface with SAP Warehouse Management.
LCS implemented this complex upgrade during the August shutdown period so as not to interfere with the company's operations. The goal that LCS had set itself was, of course, to restart September with the system in perfect working condition.
The inadequacy of even a single level would have blocked the activity of the entire warehouse.
The software was all initially tested on the bench, allowing the upgrade of the Dental Trey warehouse to take place on time and with maximum success without any setbacks.
This result was achieved thanks to the reliability of LCS, a company with vast knowledge and experience in the field of intralogistics in general and in the field of software development.
Article published in "Sole 24 Ore – 30th January – Supplement intralogistics"