Increasing global competition demands intelligent production systems combined with flexible logistics systems from the automotive industry. Automation contributes significantly to efficiency and competitiveness, enabling faster and more accurate production as well as reduced operating costs. The use of advanced technologies significantly improves production and logistics processes and consequently vehicle quality and customer satisfaction.
In this article we explore what are the benefits of integrating automation into the automotive industry and what technologies can make production more efficient.
In the next few paragraphs, we tell you about LCS Automation, part of the LCS Group, which focuses on industrial automation and specializes in the automotive sector. We also tell you how we manage our projects ensuring accuracy, safety and high quality.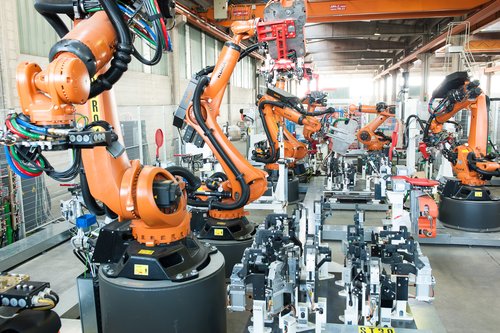 The importance of automation in the automotive industry
Automation in the automotive industry offers companies new production opportunities and contributes to the creation of safer and more efficient vehicles. Its benefits are numerous:
Operational efficiency: automation speeds up the assembly process, reduces production errors, and enables, by employing robots, repetitive and hazardous tasks to be performed reliably.
Cost reduction: investing in automation can be costly in the initial stages, but the investment pays off with a significant long-term reduction in operating costs.
Flexibility and adaptability: automated systems can be easily repurposed to produce different vehicle models or to adapt to new production processes.
Real-time monitoring and control: automation enables real-time monitoring and control of production processes through control systems.
Increased accuracy in logistics: automated logistics processes, such as component procurement and inventory management, reduce errors and improve overall supply chain efficiency.
Automation technologies in the automotive industry
Automation in the automotive sector plays a critically important role within industrial processes. The market is running at an increasingly frantic pace, and it is crucial for any manufacturer to reduce lead times, optimize costs and achieve new efficiency targets.
Indeed, automation makes it possible to streamline automotive processes by employing innovative solutions and technologies that improve production and logistics. Among the most widely used technologies are industrial robots, capable of performing a wide range of tasks for welding, assembly, and component handling while offering precision, speed, and repeatability. Not only that, but cobots, collaborative robots that are easily programmable and adaptable and can perform highly complex tasks, are also being used. They do not replace human operators, but are designed to interact directly with people in shared work environments.
Finally, logistics automation is also key in the automotive sector: automated warehouses, automated picking and internal automated handling systems, and self-driving vehicles are all solutions that optimize logistics, maintaining a steady flow of materials and components across production lines, avoiding delays and disruptions, and optimizing movement and storage.
LCS Group and industrial automation for automotive
LCS Automation is LCS Group's industrial automation company. Automotive is one of our major areas of expertise: over the years we have developed great experience carrying out projects for the biggest car manufacturers all over the world, from Europe to the United States, from Brazil to China, handling different demands and needs.
We manage complete projects concerning production process, robotic lines and industrial electrical systems ensuring accuracy, safety and high quality. We manage them at 360°: we are the only partner our clients interface with, which always guarantees fast and effective communications.
Each of our projects includes the feasibility study, to assess its advantages from an economic, technical and organizational point of view, and process control, i.e. supervision of the activities with the aim of ensuring that they operate efficiently and in accordance with the predetermined objectives.
Our turnkey automotive solutions include:
Mechanical assembly lines: our industrial robots and cobots integrate into business processes, performing operations and assemblies with pinpoint accuracy and minimizing manufacturing defects.
Electrical-pneumatic design: we implement electrical-pneumatic systems equipped with advanced sensors, actuators, and computer controls, contributing to the automation of a variety of operations in automotive production, such as opening and closing doors, braking systems, and seat adjustment.
PLC/SCADA programming and commissioning: we program and implement PLCs, ensuring their proper commissioning to manage and coordinate all operations performed by robots, sensors and machines. We design and implement the SCADA package, which, within a complex process such as Automotive, facilitates maintenance, and greatly reduces the response time of any alarm/anomaly, making recovery faster, not creating production downtime.
Electrical panel construction and installation: we manage electrical panels by ensuring their reliability and energy efficiency, so that they can direct power supply and distribution in a safe and high-performance manner.
Hydraulic and pneumatic panel construction: we manufacture compact, automated and reliable hydraulic and pneumatic panels that maximize performance.
In addition, for robotic welding and seaming lines, we handle:
– Mechanical and electrical-pneumatic design;
– Tooling construction, custom designed and built for the specific needs of automotive production;
– Electrical panels, automated to CE, UL standards that ensure efficiency and safety;
– On-board systems, which provide a detailed overview of operations and enable operators to intervene promptly in case of anomalies;
– PLC, SCADA and Robot programming;
– Commissioning, whereby we check that all components are properly integrated and that the system operates reliably and accurately.
As mentioned earlier, over the years we have managed projects all over the world for numerous automakers. For example, we worked on an assembly island for fluid tanks. In this case, our client needed a high-performance automated system to assemble tanks containing automotive refrigeration fluids. Our solution was to implement two islands with different functionalities: in the first one, the automated process realizes the welding of the tank half-shells, while in the second one all the stations necessary for the assembly process are created. In this way, it is possible to assemble different elements in batches and at the same time to collect in an automated way all the data of the process (leak testing, screwing, plating, labeling) making them available to the management system.
LCS Group: Not Only Automotive
A Finnish multinational company, operating in the field of filtration, entrusted us with the depalletizing of some packages containing fiberglass, for which there was a need to be taken from the europallets, opened and inserted into the mixer to create the mixture that would generate sheets of fiberglass.
The study led to the creation of No. 2 parallel mirrored Automatic Lines formed by 2 Cartesian robots capable of picking up the fiberglass bales inserted by the operators. At the end of the robot's stroke, the bale is released on a manual workstation and inserted, by means of an automatic belt, inside a steel conveyor, having the function of a closed and watertight tunnel due to the dangerousness of the fiberglass diffused in the air. Finally, through consents from PLC, everything is poured into a large mixer useful for creating the fiberglass mixture.
LCS Group: tailor-made automation for the industrial sector
LCS Group has been offering complete solutions for intralogistics and industrial automation for more than 30 years. As LCS Automation we work in the automotive field, but we also have experience in other industrial sectors: we are specialists in the General Industry sector and we study tailor-made solutions for customers' needs in view of special machining, assembly and component assembly.
Contact us without obligation: together we will identify the best solutions to automate your industrial processes in a performant and reliable way.