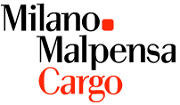 In August 2013 LCS finished the installation of the software that manages the handling and storage of materials for Malpensa Cargo, the most important airport in for freight traffic in Italy, with about 550,000 tons / year.
The expansion project of Cargo City, currently underway, will increase its capacity to over € 1 million tons / year.
Logicargo is an integrated system (WCS + WMS), which manages materials handling and storage in automatic and / or manual Cargo plants.