Stacker cranes are a great asset in the world of logistics because they help automate the operating cycle. They are the backbone of automated warehouses, thanks to which many companies are able to improve performance, speed up the handling of goods and increase their productivity.
Stacker cranes are machines used to automatically store and pick various types of goods such as pallets, boxes, containers, tyres. They are robots and, thanks to control systems integrated into them and warehouse management software, stacker cranes are able to execute all commands given to them.
These machines are programmed to store products automatically at the pre-determined location, guaranteeing error-proof and low-cost work. Stacker crane operated warehouses can be over 150 metres long and up to a maximum of 45 metres high.
What does a stacker crane consist of and how does it move?
By a mobile frame that moves by means of belts, chains or supporting ropes, along a vertical structure and within an aisle, typically bounded by two racks;
The vertical structure actually consists of one or more columns in turn anchored to a beam running along a rail on two supporting wheels, one driving and one driven. In some cases, machines with several driving wheels are designed for high-performance machines;
There are contrast wheels at the top that keep the sideshifter upright.
Depending on the goods to be handled, there are different types of stacker cranes: stacker cranes for pallets or for larger and heavier goods, and miniloads, for handling lighter and smaller loads.
In addition, they can handle single- or double-deep and multiple-deep warehouses, i.e. with a variable number of containers per side.
Stacker cranes for pallet
Stacker cranes for pallet are designed for the automatic storage and pick of pallets, boxes and other bulky loads. They move along aisles according to the commands of specific software that allows an operator to manage them.
The dimensions of the pallet stacker cranes can reach a height of 45 metres in their self-supporting warehouse version, with load capacities of over 10 tonnes.
The strengths of automatic stacker cranes include:
the precise automation of pallet entry and exit,
improving the management of inventories by constantly updating them,
the elimination of errors typical of manual operations,
the speed of picking, regardless of unit size,
the guarantee for operators to work in complete safety,
the possibility of being equipped with mechanisms for recovering energy during braking
their energy efficiency,
the versatility, which allows them to adapt to almost all types of goods and different temperatures, even as low as -35 °C in a cold store.
There are two main types of pallet stacker cranes: single-column and double-column.
Single-column stacker cranes
Single-column pallet stacker cranes, as the name suggests, consist of a single column and are most suitable for warehouses with lighter loads. In this sense, we can indicate an ideal pallet weight of between 1,000 and 1,500 kg.
Double-column stacker cranes
In this type of stacker crane, the structure with two vertical columns corresponds to an elevation cradle in the centre, which allows access to all storage levels. As double-column stacker cranes are stronger than single-mast cranes, they are well suited to handling heavy or bulky loads.
Miniloads
The miniload is a machine similar to the stacker crane but with a tendentially lighter structure, designed to handle boxes or plastic crates. The advantages to be found in this type of stacker crane are the same as those already mentioned in those for pallets, simply related to smaller loads and dimensions.
As far as their configuration is concerned, the miniload stacker cranes also come in single-column and double-column variants. The twin-column stacker cranes for containers can be up to 20 metres high, moving up to four containers weighing over 50 kg each at the same time.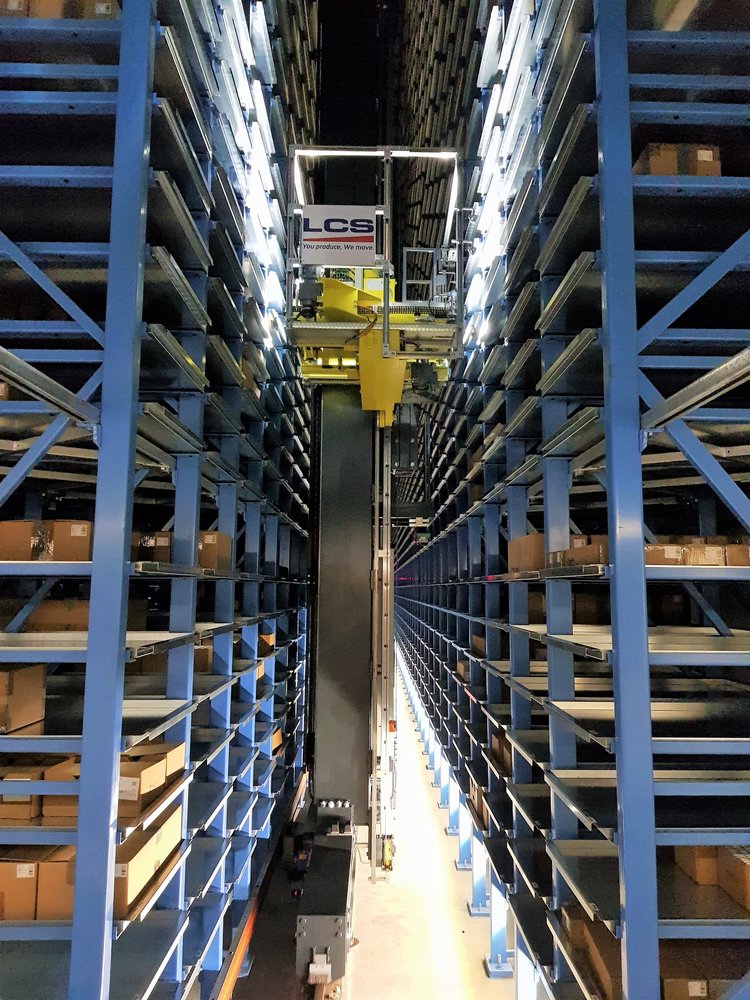 LCS Group's automated storage solutions
LCS Group, operating since 1989 in the fields of internal logistics and industrial automation, designs and manufactures automatic warehouses that can also be customised on request. Since the stacker cranes represent the focal point of the system that makes up the automatic warehouse, it is important to be able to count on a wide choice of products that vary according to the load capacity, the size of the goods and the type of height to be reached for storage.
For more information, please contact LCS by following the link. We are also happy to advise which automatic storage solution with stacker crane is best suited to your needs.