LCS LAUNCHES INTO 2022 BY RENEWING SPONSORSHIP
WITH THE FUN BUDDIES PARACHUTING TEAM
LCS SpA, a company of the LCS Group specialized in the automation sector for intralogistics, formalizes the renewal of sponsorship in support of the Fun Buddies for the whole of 2022. A sponsorship signed in 2020 in support of the AS Flyinghetto team, an association active sportsman in the field of indoor and outdoor parachuting.
The LCS brand will continue to be present on the athletes' suits and other materials provided for pre-competition events and official training. Specifically, LCS pays its support to AS Flyinghetto in view of the participation by the "Fun Buddies" team in national and international professional competitions.
Following the official participations registered in 2021 and having been part of the team that set the new Italian Sequential Headdown record, the Fun Buddies team is ready to enthusiastically launch into the new year with other important challenges. From training in preparation for competitions, to the Czech Indoor Open, Czech Indoor Championships in January to the Indoor World Cup, an event organized by the Aeronautical Federation and many other occasions where they can push themselves higher and higher.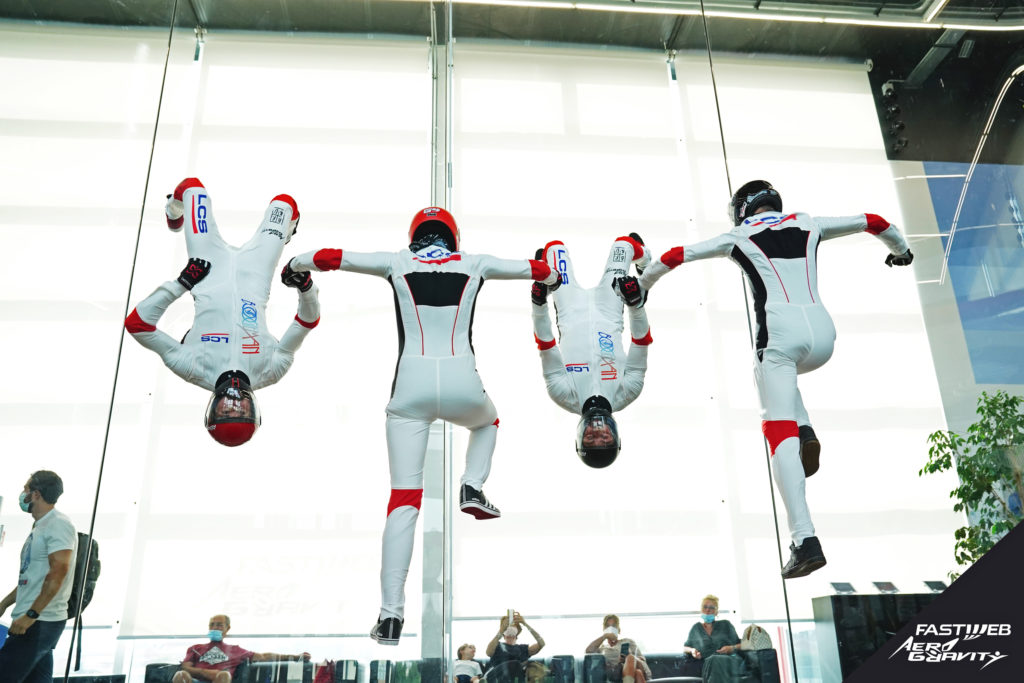 ACCURACY, PRECISION AND CONTROL: THE ASSONANCES BETWEEN PARACHUTING AND THE LCS WORLD
From the words of Fabio Zucchini, Service & Revamping Manager of LCS SpA, proponent of the sponsorship initiative and skydiving enthusiast, comments: "There is nothing improvised about skydiving, before getting on the plane check that everything is in order, you have a briefing, talk to your team and coordinate: everything is very organized. There is a very strong team spirit, there is synergy with everyone, not only with one's own team but also with the members of the opposing teams. Security is a key issue as is precise timing control. And so we too pay attention to details in our work: from materials to time control because we have very specific deadlines, from planning activities to strong team spirit and collaboration with colleagues. However, the most important aspect that unites the two worlds is the fact of having to find the best solution quickly, then respond quickly to all situations that arise "
Information on AS Flyinghetto and Fun Buddies
AS Flyinghetto has been operating in sports parachuting for 12 years by organizing national events such as amateur competitions and Official Italian Records, also participating, through its associates, in international events, national and international competitions.
Born as part of the AS Flyinghetto, the "Fun Buddies" Team is made up of Emanuele Bielli (President of AS Flyinghetto), Dennis Broglia, Carlo Barni and Gabriele Grossi, 4 expert paratroopers, of which 3 with the qualification of Parachuting ENAC.
Together they total more than 13 thousand parachute jumps and more than 500 hours in the Free Fall simulator, the vertical wind tunnel.