Automation and digitisation are revolutionising the way companies produce and distribute their products, making 'smart factories' capable of dealing with the new criticality of production processes and the changes taking place in industry.
But what is a smart factory? This term refers to a company that modifies its production processes through automation, robotics and software systems.
The terms 'Industry 4.0' and 'Factory 4.0' are also used to refer to the inclusion of different technologies within industrial production. Indeed, automation helps to achieve several goals:
Increasing industrial productivity;
Respond to supply chain needs in a timely manner;
Minimise disruptions due to technical problems.
In this article we look at the benefits of interconnection and how LCS Group's 4.0 solution has improved warehouse management and logistics and production processes within Cadel S.r.l.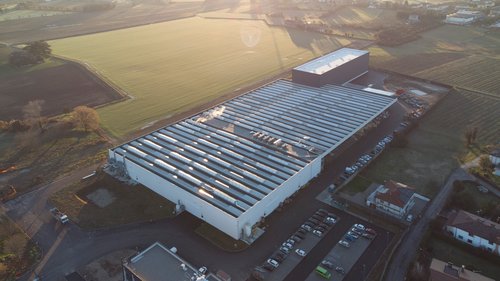 Benefits of Interconnection
In a smart factory, production activity is managed by interconnected software that monitors every step of industrial production.
Interoperability in Factory 4.0 is based in particular on IoT (Internet of Things) technology, which allows devices, machines, sensors and production systems to be interconnected in order to collect, process and share information in real time.
This provides numerous advantages:
Production efficiency: in the smart factory, industrial machines become versatile and intelligent systems that communicate with each other by sharing information. This makes processes more optimised and controlled, improving product quality and reducing costs and production time.
Data analysis: smart factories obtain information from various business sources, such as the web, online documents, XML files, as well as MES, ERP and WMS systems. Informations are processed and transformed into data useful for predictive analysis and decision-making processes, but also for the automation of routine procedures.
Predictive maintenance: data analysis provides information on the performance level of machinery, the wear of specific components and the tolerance threshold of a plant. This allows timely maintenance intervention, avoiding costs and downtime due to machine breakdowns.
Production flexibility: through new technologies, machines and robots become modular and can adapt to different production environments. As a result, the company can respond to customer needs more quickly and efficiently, reducing human error and optimising resources.
Safety at work: automation leads to greater safety for workers, reducing accidents, and greater protection of sensitive company data (Cyber Security).
All the benefits of interconnection are provided by LCS Group's technologically advanced, highly reliable and modular 4.0 solutions for industry.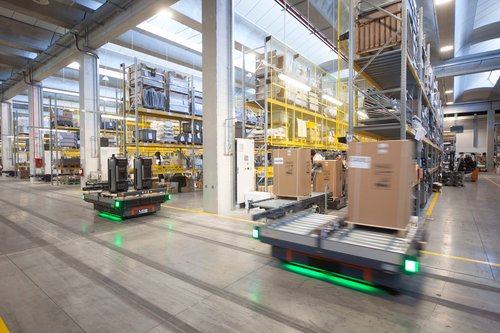 Case History: how we implemented the customised 4.0 solution for Cadel 
Cadel S.r.l., an Italian company that designs and builds high-quality stoves, is a perfect example of a smart factory.
For such a company, LCS devised a factory 4.0 solution involving a green field self-supporting automated warehouse connected directly to the production lines and finishing and kit assembly lines through the use of a fleet of 9 AGVs.
The software used allows total and optimal management, supervision and control of the entire plant, guaranteeing
Increased production efficiency and workflow management;
Constant traceability of products in the warehouse;
Optimisation of spaces and greater storage capacity;
Automation in goods handling;
Significant cost reduction.
Go to the complete case history to learn about the solution in detail.
A multi-layered defence for cybersecurity
In such a context, it should not be forgotten that interconnectedness could expose companies to cyber attacks that risk compromising data security, product quality and business continuity. This can be remedied with ad hoc cyber security measures, which are essential to protect information and technology assets from hacker attacks, malware, viruses, sabotage or human error.
Based on the customer's needs, LCS Group identifies targeted solutions and best practices for IT security. This is what it did for Cadel: IT security is ensured through:
A multi-layered defence;
The protection and segmentation of the Internet.
A long-term project to expand the Warehouse  
Il progetto di LCS Group per Cadel – oltre ad essere altamente affidabile e performante – è anche modulabile nel tempo. Questo permetterà all'azienda di soddisfare necessità variabili in relazione ai cambiamenti del mercato. Il magazzino è infatti espandibile: attualmente consente una giacenza totale di quasi 17.300 ubicazioni, che possono essere aumentate fino ad un massimo di 23.000.
LCS Group's project for Cadel – besides being highly reliable and high-performance – is also scalable over time. This will allow the company to meet variable needs in relation to changes in the market. The warehouse is in fact expandable: it currently allows a total stock of almost 17,300 locations, which can be increased to a maximum of 23,000.
In addition, the system is already prepared for:
Addition of a fourth stacker crane, alongside the three already present;
Addition of further production and finishing lines;
Addition of AGVs
Expansion of the WMS software to manage the entire material flow: from raw material input to delivery.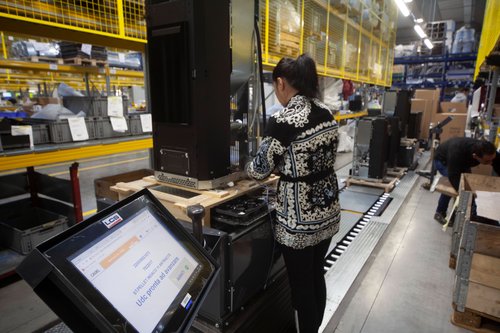 Contact LCS Group for your Customised 4.0 Solution
For over 30 years, LCS Group has been offering complete solutions for intralogistics and automation. We design tailor-made industrial systems and software guaranteeing interconnected operations and always usable data via user-friendly interfaces.
For connected and smart logistics, LCS Group offers its highly scalable and customisable LogiMHS software solution for material handling and management.
We will help you identify and implement the best solution for your logistics: contact us for more information.