Milano Malpensa Cargo City – Airports
Malpensa Cargo: storage and material handling more efficiently with LCS LogiCARGO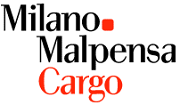 The Milan Malpensa Airport is now the first Italian airport for transported goods and is one of the main cargo airports in Europe..
Milan Malpensa Cargo covers an area of 180.000 square meters. Inside were made infrastructure and facilities for the treatment of air freight that can handle all types of goods.

Timing:
Order to LCS: july 2015
Mounting start: january 2016
Production begin: february 2016
Analysis and project solution
The facilities include:
2 warehouses for the handling of air cargo;
a mechanized plant fully automatic for handling and storage of ULD;
2 plants mechanized automatic additional trucks for interfacing with systems;
2 structures at a controlled temperature for perishable goods;
areas for the stationing and control of small size animals and large size animals;
an area office for operators and control authorities.
Peculiarità dell'impianto
LCS has created a solution based on the customer's needs, focusing on the best and most suitable software solution for the management and handling of aerial goods:
LogiCARGO is an integrated system (WCS + WMS) that manages the movement and storage of materials in automatic and / or manual loading systems
Infrastructure and facilities for the treatment of goods,
The technological updating of the management and control system of the ULD mechanized handling and storage plant,
Advantages
The implemented solution represents for the Customer an important technological advancement that has allowed to obtain the expected benefits and improvements:
Improve the flexibility of flow management strategies;
Increase system reliability;
Have the availability of more accurate diagnostics and more complete statistical data.

In 2014 LCS has completed the technological upgrading of the management and control system of mechanized handling and storage ULD.
The plant had several limitations. The aim was to improve the flexibility of the management strategies flows, to increase system reliability and availability of a more accurate diagnostic and statical data more complete and to resolve the obsolescence.

Through the software installation of LogiCARGO it was possible to achieve the set objectives, all while maintaining operative continuity.
LogiCARGO is an integrated system (WCS+WMS) which manages staorage and material hanling in automatic and/or manual plants Cargo.
It use handler information to optimize the flow of import/export, applying the most appropriate strategies for transfer, storage and picking operations in order to optimize the flow, the area of the storage and the paths of the machines and operators.
It can be customized to suit specific needs and requirements..
LogiCARGO is an application with web interface "user friendly" that can be used on any device (PC, PDA) with an internet browser of the latest generation.